Differences Between Maryland Protective Order vs. Peace Order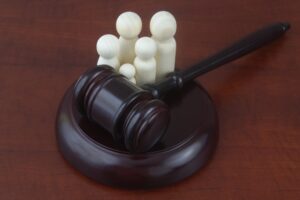 It makes sense to have confusion between a Maryland peace order and a Maryland protective order. However, you can only be qualified for one type of order or the other. The primary difference between a protective order and a peace order involves the relationship between the parties involved.
If you need to file either type of order, Levin Gann, a family law attorney in Towson, may be able to help you.
Both peace orders and protective orders are designed to provide immediate safety for all involved and can last from a week to six months. Judges issue both types of orders.
Protective Order vs. Peace Order
Both types of orders involve the occurrence of abuse. In the event of a peace order, the court will order the minimum number of responses to reasonably protect the petitioner, which can impose the following on the accused:
No contact with the petitioner
Stay a distance from the petitioner's school, home, or place of employment
Repaying all filing costs and other fees the petitioner incurred
Mandatory counseling
An immediate end to abuse
In a protective order, the following rules may be imposed on the respondent by the court in addition to those listed above:
More extensive zone of protection: the accused must stay away from the petitioner's children's school and other places they frequent
Complete surrender of firearms in the respondent's possession
Protective orders also assist with immediate needs for the petitioner, such as the use of a jointly owned car, temporary custody arrangements for children and pets
As you can see, the protective order more specifically provides relief and applies to a familial relationship, such as marriage, whereas the peace order is more general. Protective orders are a little more heavy-handed in terms of the amount of protection they provide, whereas peace orders are specifically intended to provide you with the minimum amount of protection via restrictions on the respondent.
Mutual Orders
Mutual orders occur when both parties file peace orders or protective orders. The court will entertain mutual orders in some rare instances, but generally, one party (the petitioner) files an order with the assistance of their lawyer.
To receive a mutual peace order or a mutual protection order, both parties must file the same type of order; it doesn't work if one person files protection and the other peace. Additionally, the court must determine that both parties have committed or are likely to commit acts of abuse.
Filing a Protective Order or a Peace Order
You may file a peace order in the district court. You can file Maryland protective orders in district or circuit courts. For the best outcome, you should consider retaining a family law attorney Towson MD. Your family law attorney will ask you about some details, including what type of threatening actions have been made against you (revenge porn, violence, sexual assault, bodily harm, abuse of adult or child).
If you're looking for an immediate end to contact with the person in question, time is of the essence. Protect yourself and your family by speaking with a family law attorney immediately.
Considering the nature of these orders, properly filed protective orders and peace orders in Maryland go through relatively quickly. This is to ensure the safety of all parties as soon as possible, especially when there are children involved. These types of orders can be implemented as a temporary means of protection while both parties are sorting out issues that will more permanently determine details, such as divorce, assault lawsuits, and more.
Family Law Attorney Towson
If you're not sure what type of order to file or are aware of the correct order and need help filling it immediately, Levin Gann PA can help. A family law attorney Towson is best to handle this matter locally or statewide. In addition to the filling of the order, being represented by an effective lawyer such as Levin Gann can result in deterring further violence, stalking, harassment, or digital bullying as the offending person is aware that you have legal representation. This means you may be protected in more than one way — but it can't happen until you give us a call. Call us today for more information through a consultation.