Litigation Attorneys in Towson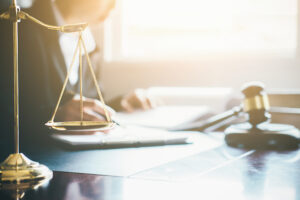 When you hire a Litigation attorney from LEVIN GANN PA you are retaining a firm with more than a century of combined expertise in complex civil litigation and criminal defense. We will bring all our resources to bear in the aggressive pursuit of your desired outcome.
Our trial attorneys have experience in representing both plaintiffs and defendants in a variety of cases, both civil and criminal, in Baltimore City, Baltimore County, Caroll County, Harford County, Howard County, and Montgomery County, among other counties in Maryland, as well as Maryland's Federal Courts. Our combination of proficiency, creativity, and vigorous advocacy yields success for our clients in many areas of litigation; business and commercial disputes; tax controversies; personal injury cases; wrongful death actions; medical malpractice; employment disputes; probate, zoning, land use and developer issues; lender liability; injured workers' claims; construction defects and boundary disputes; creditors' rights; lead paint defense; mechanic's liens; domestic and family law matters; serious motor vehicles offenses; and other criminal charges.
When cases require more than an initial trial, our attorneys rise to the occasion. Our team has successfully appealed numerous cases in Maryland's State and Federal Appellate Courts and served as local counsel in multi-state class action litigation. LEVIN GANN PA's Litigation Group, includes John J. "Jack" Condliffe, Debra B. Cruz, Jody Maier, Stanford G. Gann, Jr., Stanford G. Gann, Sr., Lee J. Eidelberg, Aaron J. Turner, Shannon Boisseau and Rena Neuman. These attorneys regularly assume leadership roles in bar association committees and on law school faculties and serve as lecturers and presenters for the National Business Institute and the Maryland Association for Justice's continuing legal education programs and seminars. If you want drive, determination, and a track record of proven success from your Litigation counsel, contact us now.
Our areas of expertise include:
Administrative Law
Commercial and Business Disputes
Construction Defects
Contract Disputes
Creditors' Rights
Collections
Criminal Defense
Employment Disputes/EEOC Matters
Family Law/Domestic Relations
Mergers & Acquisitions
Wrongful Termination
Medical Malpractice
Motor Vehicle Accidents
Serious Traffic Violations
DUI/DWI
Premises Liability
Personal Injury
Estate/Fiduciary Claims
IRS Disputes
Lead Paint Defense
Lender Liability
Insurance Coverage
Real Estate Disputes
Workers' Compensation
State and Federal Appeals