Medical Malpractice Attorneys in Maryland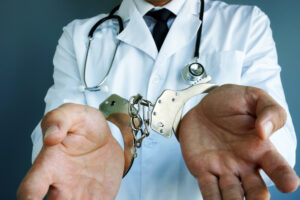 If you or a loved one experiences a tragedy created by medical negligence, you need a confident and proficient Medical Malpractice attorney to assist you. These challenging and complex cases can have lasting impact on individuals and the Health care industry, so they must be handled with care and expertise. In the interest of justice and protecting the public from serious permanent injury and even loss of life, our attorneys, Lee J. Eidelberg and John J. "Jack" Condliffe, with the assistance of Aaron Turner, have tried numerous Medical Malpractice cases. We can provide the zealous and compassionate representation you need to confidently pursue your medical malpractice claim. LEVIN GANN PA's hallmark individualized approach alleviates the stress and emotional turmoil for our clients in these cases.
Our attorneys have handled Medical Malpractice cases that featured medical negligence, misdiagnosis, delay in diagnosis, surgical mistakes, birth defects, faulty medical procedures, head injury, and traumatic brain injury. We have obtained favorable outcomes for clients and their loved ones who suffered tragedies: brain damage; heart damage; mistaken removal of vital organs; birth defects; unnecessary surgical procedures; and untimely death due to failure to diagnose a pulmonary embolism, subacute endocarditis, or cancer.
In order to review your rights and evaluate your potential claims and remedies, LEVIN GANN PA offers an immediate consultation with individuals and their family members who believe they were victims of medical negligence. We can assist you with gathering evidence and taking other necessary steps to bring a successful Medical Malpractice claim. After investigating the allegations and consulting with professional medical experts, if warranted, a suit will be filled in the appropriate jurisdiction. We have represented clients from cities all over Maryland, from Rockville to Columbia to Towson, so no matter where you encountered Medical Malpractice, we can help you identify and pursue the appropriate course of action, which will allow you to focus on your physical and emotional healing.
Maryland Personal Injury
Personal Injury Attorneys from LEVIN GANN PA represent individuals injured in the workplace or by a defective product, as well as individuals injured in an automobile, train, or aircraft accident. Lee Eidelberg will fully evaluate your circumstances and assess your potential damages stemming from pain and suffering, as well as an economic loss of income. Our comprehensive and thorough approach, designed to fully explore every facet of a case, includes reviewing a client's medical records and insurance claim forms and identifying potential lienholders who could affect a client's recovery. Early legal intervention is crucial to establishing a successful Personal injury case. We are available for an immediate consultation, so contact us today to learn about your options in cases of:
Misdiagnosis
Delayed Diagnosis
Prescription Errors
Birth Defects
Motor Vehicle Accidents
Slip & Fall
Premises Liability