Maryland Family Lawyers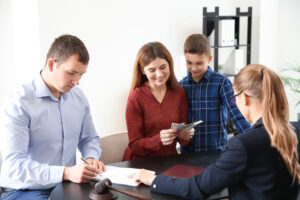 If you are seeking assistance with a Family Law matter, then this is likely a difficult time for you and those close to you. Rest assured that LEVIN GANN PA's Family Law team is sensitive, compassionate, and steadfast in its pursuit of your needs and goals. Our specialists provide advice and counsel, from the onset of matrimonial turmoil, on both separation agreements and divorce, placing an emphasis on business valuation, alimony, monetary awards, and child support. In child custody cases, we work closely with our clients and child experts to protect the best interests of the children involved. We can avert future conflicts through pre-marital agreements that protect our clients' assets. And despite overwhelming stress, a LEVIN GANN PA Family Law attorney can shield you from unanticipated financial risk and protect your future interests.
Currently led by John J. "Jack" Condliffe, LEVIN GANN PA's Family Law group was founded by the late Ellis Levin, who, through forceful advocacy and integrity, helped families in the Baltimore Metropolitan Area navigate the challenges posed by divorce. Upholding that legacy, our Family Law Attorneys, Stanford G. Gann, Sr., Jack Condliffe, Debra B. Cruz, and Shannon Boisseau continue to serve our community in this capacity. Our goal is to minimize the stress on clients and devastating impact that a costly family court matter can have. We are experienced advisors, negotiators, and trial attorneys.
We listen to our clients and consider their needs. Our team then develops a cohesive strategy leaving no stone unturned, that maximizes client resources and minimizes negative financial consequences. This strategy is fully and transparently communicated to both the client and within the Firm before final implementation. Our approach is balanced, integrative, and sensitive to the emotional toll inherent in Family Law proceedings. It is also common for divorces and property settlements to create or exacerbate tax or business issues, so Mayer E. Guttman and Sean Elavia, specialists in tax and business planning, works closely with our Family Law attorneys to evaluate and minimize such effects if they arise.
Divorce can be painful not only for the litigants but also for uninvolved, vulnerable third parties. To ameliorate unintended harm for our clients to the fullest extent possible, our Divorce attorneys, Domestic Violence attorneys, and Custody attorneys regularly work with third-party counselors to obtain the best possible results with the minimum amount of disruption and emotional injury.
Contact us to speak with one of our team members, and find out how we can help. We can offer assistance in the following areas: