Qualified Domestic Relations Orders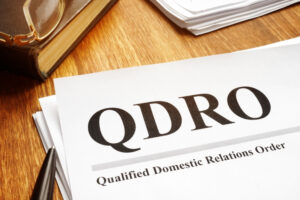 A judge enters a Qualified Domestic Relations Order in Maryland domestic relations court to grant an alternate payee the right to be paid all or a portion of retirement benefits that benefit the payer, usually the spouse of the alternate payee.
Such orders are typically entered in divorce cases when the alternate payee is the spouse or former spouse of the beneficiary and a participant in a retirement plan sponsored by their employer. Entry of a QDRO operates to divide that portion of a plan acquired during a marriage. Even a child or another dependent of a retirement plan's participant can be designated as an alternate payee in a QDRO.
Timing the Entry of the QDRO
First and foremost, any QDRO submitted to a court or plan administrator must comply with state and federal laws. The plan administrator has the right to decide whether the plan will recognize a proposed QDRO submitted for approval when a court enters a QDRO, and a divorce decree depends on when the plan allows it.
That is why you'll want to consult an attorney in any case involving a QDRO, especially if the time of submission of a QDRO might affect an alternate payee's rights in the plan.
Don't Think About Drafting Your Own QDRO
Maryland recognizes that people can transfer all or some of a retirement plan from one spouse to another. In just about every such transfer, you must enter a court order, and for most retirement interests, that court order is typically a QDRO. If you've ever seen one in the past, you will have quickly learned how complicated they are.
Your QDRO can make a significant difference in your financial future. Consult us at Levin Gann PA, about the type of retirement plan your spouse is participating in and what is necessary to draft your QDRO. Call us today to set a schedule with one of our attorneys. It's far better to obtain legal advice and counsel before entering into any settlement discussion involving a QDRO so that you're fully aware of your alternatives.