MD Corporate & Business Law Lawyers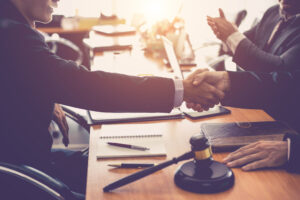 The Corporate and Business Law attorneys at LEVIN GANN PA prevent potential problems and solve existing problems to help our clients' businesses grow and thrive. Our approach is creative, practical, and personalized. Our attorneys share our clients' entrepreneurial passion, and we aggressively pursue our clients' success and satisfaction. From sole proprietors to large corporations, we maintain active and current knowledge regarding our clients' businesses within the framework of ever-changing regulations.
Andrew R. Sandler leads a group of highly regarded attorneys that includes Stanford G. Gann, Sr., Sidney Weiman, Mayer E. Guttman, Jody Maier, Sean K. Elavia, Jacob Rappaport, and associates Halle Bennett, John Makres and Brett Turlington, in addressing the complex aspects of corporate law, including, among other business matters, mergers and acquisitions, operating and partnership agreements, workouts, corporate and entity creation and dissolution, and tax-related planning and dispute resolution.
LEVIN GANN PA becomes a vital part of a business's senior management team, actively involved in the negotiation and documentation of all business transactions, including purchases and sales of business, lease negotiations, franchising, and lender financing and restructuring. Additionally, led by Jody Maier, LEVIN GANN PA is a regional leader in employment law, advising employers on a broad range of issues, including, but not limited to, wrongful termination, employment discrimination, workers' compensation, restrictive covenants, noncompete agreements, wage claims, and sexual harassment.
Mergers and acquisitions is an area in which our Corporate and Business Law group has particularly distinguished itself, managing these matters with the expertise, creativity, and attention to detail that they demand. Our counsel structures the negotiations and transactions within these events to best meet our clients' immediate needs and long-term business goals. Additionally, LEVIN GANN PA frequently advises clients in the Healthcare sector. Our areas of expertise include, but are not limited to, formation of new Healthcare structures, grievance procedures, and third-party provider contracts. LEVIN GANN PA attorneys are well-trained in the highly sensitive area of business succession planning, working with clients to ensure a smooth transition of wealth and assets to family members. In cases requiring complex arrangements, such as sales to third parties, we facilitate all legal aspects of the process to maximize the company's value to the client, the client's family, the company, and valued employees.
If your business, corporation, or organization needs a devoted team to guide your operations or solve problems as they arise, contact us to connect with a specialist. For a trustworthy, accomplished, and committed business attorney, you will not find a better choice than at LEVIN GANN PA. Our experience in this area encompasses the following:
Contracts
Operating/Partnership Agreements
Mergers and Acquisitions
Employment Law
Non-Compete Agreements
Employment/Independent Contractor Agreements
Employer Compliance and Regulations
Employments Disputes
Employee Handbook Compliance
Entity Structuring
Organization/Dissolutions
Charitable/Nonprofit Law
Succession Planning
Commercial Lending/SBA Loans