Maryland Prenuptial Agreement Lawyers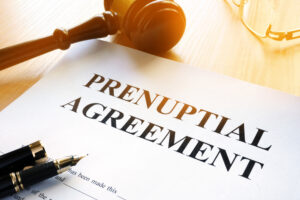 Finding love and preparing for a wedding and life together is a joyous time. This is also the time that you may need to consider a prenuptial agreement, also known as a "prenup." When preparing for marriage, there are some things to consider when considering a prenuptial agreement. A prenup may seem unromantic, but it also may be a practical legal decision that makes the lives of both parties easier.
What Is a Prenuptial Agreement?
A prenuptial agreement is a written contract between two individuals about to enter a marriage and start a life together. This contract protects either or both parties' assets acquired before the wedding. It can include property, personal rights, alimony and may even provide stipulations about any future assets acquired during a marriage.
It is important to note that a prenup does not cover anything concerning child support, child custody, or parenting agreements which must be determined by a different agreement. Prenups can be modified during the marriage, though, as long as both parties comply with the changes.
Prenuptial Practices
Prenuptials are a good choice for someone if they have considerable assets acquired before the marriage. This allows you to protect the things you have worked so hard to acquire. It is also good when a party has children from a prior marriage.
It is important to make sure that there are clear boundaries that divide property acquired before the marriage and to prepare and protect both parties in case of the unfortunate event the union doesn't last.
A prenup can be quite useful to set up clear, understood boundaries that can often make the marriage successful. With the agreement, you and your partner can agree on what you think is important now so that you don't have to decide on it later. A prenuptial lawyer should be brought in to ensure that the document is enforceable and legally binding. If you need a prenup in Townsend, Maryland, call Levin Gann PA, to help you prepare for a secure, happily ever after.