Maryland Protective Orders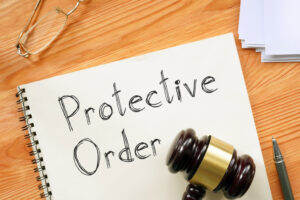 Maryland law provides for individuals to obtain protective orders against others by whom they feel threatened. This is often necessary for instances of abuse. A victim of any type of domestic abuse has a right to file for protective action.
It is important to have information on how protective orders work. If you are in an abusive situation and are in need of protection, we can help you better understand your options.
Domestic Violence
A common type of protective order is often filed on behalf of victims of domestic violence. There are steps involved in this process, so it is helpful to understand these steps ahead of time.
You can file for a protective order at the District or Circuit Court. There are certain conditions of eligibility for this type of order.
You are married to the respondent
You were formerly married to the respondent
You live with the respondent or you lived with them for at least 90 days in a one-year period
You have a child with the respondent
You are legally related to the respondent
You are a parent, step-parent, or stepchild of the respondent
You have had sexual relations with the respondent within the last year
Filing Process
Obtaining a protective order is a legal process usually consisting of three steps.
Step 1: Obtain an interim order. This takes place in front of a Commissioner or a Judge. If successful, you will initially be given an interim or temporary protective order.
Step 2: The hearing. A hearing will be conducted in which both parties should be present in court.
Step 3: Approval or denial of order. During the hearing, a judge will evaluate the evidence and make a ruling concerning the protective order. If the burden of proof is met, the length of time and the terms will be set by the judge.
Do I Need a Lawyer?
It is a good idea to have a lawyer on your side. We will be able to advise you on how to file paperwork and the types of evidence that you should submit to the court. If you have filed for a protective order or are considering filing for one, contact Levin Gann for assistance.